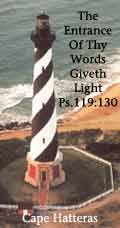 Dedicated To The Men of God Who Preach the Word of God As It Is To Men As They Are

Many audio sermons on the Internet cost you six dollars per cassette tape, with only one sermon on them. I am now prepare to make available to you
sermons I have preached from the Zion Hill Baptist Church pulpit on monthly basis. In the month of August, 2002, I preached nine messages
from our pulpit that are now available to you. If you want a particular month, or every month of the year, they are available to you on CD for only $9.00 per CD. That price includes your shipping cost as well. This offer begins with the offer of the month of August 2002 messages.
There is a fairly new technology out now call MP3. It takes a standard wave file, compresses it, and allows you to put more more on a standard CD disk than ever before. All you have to own is a CD player with the MP3 capability. Many of the CD players folks are now buying, both home and auto, can be used to play MP3 files. If you want to use your computer to listen to these sermons, then all you have to have is software that will play
MP3 files.
If you desire this offer, click on the order form icon below to get to an order
form. Simply request the following: Zion Pulpit-August 2002. If you have any question you can e-mail me or call 828-738-3533.







Click On Speaker Below To Hear A
Clip Of One Of The Messages