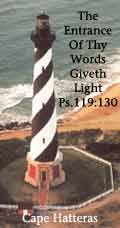 Dedicated To The Men of God Who Preach the Word of God As It Is To Men As They Are











"Preach The Word"

Mini Sermon Book
Available By Brother
Billy Bryant

This is a beautifully bound hard back book written by Billy Bryant, who was pastor of the West Court Street Baptist Church for almost 38
years. This book was written after many years of studying and experience. Brother Bryant has touched the lives of many through
this volume. Hundreds of these books are in circulation around the
United States. The short studies are heart warming and enlightening.
The pastor can get many good preaching ideas, while the lay-person can use it as a daily devotional book. It contains 365 short mini-sermons, each a page in length, to help keep the Devil away.
For a donation of $18.00 or more
you can have this volume sent to you.
When your gift is received your album will be sent.
To order--click on graphic that says, "Order Now"




Click on blinking ball below to
see a mini-sermon from Brother Bryant