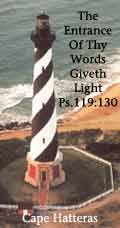 Dedicated To The Men of God Who Preach the Word of God As It Is To Men As They Are



Gospel Music From Years
Gone By



You can hear these songs through the Real Audio Player
free for your spiritual listening pleasure. This is some of the
great gospel music from the past from many groups.
You must have the Real Audio Player to hear
these files. Real Audio has a player free. Just click on Real Icon below.

Click on note box to the right to begin song:
Blackwood Brothers
I'm Free

Blackwood Brothers
I'll Roll Away

Florida Boys
Gone
Florida Boys
Happy Tracks
Gethsemane Quartet
I'll Be There

Gethsemane Quartet
Joy Bells

Happy Goodmans
I Saw The Light
Happy Goodmans
Too Near Home
Jordanaires
Peace In The Valley

Jordanaires
Swing Down Sweet Chariot

Oak Ridge Quartet
Go Out To The Program
Oak Ridge Quartet
When I Lay My Burdens Down Someday
Rangers
The Land Of Perfect Day
Rangers
God Will Take Care Of You
Statesmen Quartet
They Would Not Bend, Bow, Burn

Stamps Quartet
Blessed Assurance

Stamps Quartet
I Can Feel His Hand In Mine
Tom Walker Singing
I just had to put this in. It is a far cry from J.D. Sumner
I Am A Pilgrim-Bass Solo
Wendy Bagwell- Sunlighters
At The End Of The Road

Wendy Bagwell-Sunlighters
I Dreamed I Saw Heaven

Whitey Gleason-Piano
Just A Closer Walk With Thee

Whitey Gleason-Piano
If We Never Meet Again
More Songs To Be Added Later