Great Preaching Materials
By Ron Lovins Available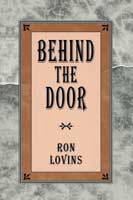 "Brother Lovins is one of the outstanding preachers and Bible students of our day. This book is the result of a rather long and arduous study. The fire that was birth in his heard as to the desire to write burned long before the day the book was actually written.
The book has 7 chapters. Each of these chapters is a full length manuscript sermon alliterated with points and sub-pointsand based on the Word of God.
The thoughts for these studies are focused on certain instances in the Bible where a door is mentioned and what transpires behind that theme.
The book is 157 pages long and is highly recommended."

Dr. Tom Walker
Preacher's Corner Founder


For A Donation of $9.00 to the
Preacher's Corner Ministry, we can ship
this volume to you. Postage is included in the price.

Click on "order icon" below to have
an order blank to print out on your printer.