Where will you spend eternity?
If you died this very moment would you find yourself
in a dreadful place of torture called hell or would
you awaken in a blissful and beautiful place called heaven?
HELL IS A LITERAL, ACTUAL PLACE.

Hell is called a place where there is :
"eternal fire"(Mk.9:48)
"weeping"(Mt.22:13)
"gnashing of teeth"(Mt.25:30)
"thirst"(Lk.16) will crave for one drop of water
"torment"(Luke 16:24)
"fire"(Matt 5:22)
It will be separation from Holy God and
saved love ones already in heaven forever and ever!
OUR HUMAN VOCABULARIES CANNOT ADEQUATELY
DESCRIBE THE AWFULNESS OF HELL!
You do not have to go to hell because God has a better place.
There is the home of the saints called heaven.
Below is a beautiful place but it is nothing
when compared to heaven.
Read Rev. 22 as see how it is described.

You must be saved to go to heaven because you
are a sinner (Rom.3:23; Isa.64:6; Rom.3:10).
*****************
If you will only become a child of God, the Lord
Jesus Christ will give you an abundant life now
(Jn. 10:10) and heaven when you die (Phil.1:21).
You must come to God through the sacrifice
that Jesus, God's only begotten Son offered
when He gave His life upon the cross FOR YOU.
He died the "just for the unjust, that He might
bring us to God (1Pet.3:18).
You must come through Christ's blood and sacrifice
to approach God (1 Tim. 2:5). Jesus is the way (Jn.14:6).
Eternal life is in Christ so to be a true
child of God He must live in your heart.
The Bible says, "Christ in you, the hope of glory"(Col.1:27).
Acts 4:12 says, "Neither is there salvation in any other,
for there is none other name, under heaven, given among
men, whereby we must be saved.
Christ taught there are two roads (Matt.7:13-14).
1- The narrow way that leads to eternal life).
2- The broad road that leads to destruction.
Look at the picture below and think about it!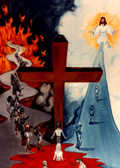 Accept Christ as your Savior now before it is to late!
Turn from sin to Jesus now, pray, trust, and be saved.
HE WILL SAVE YOU NOW!
In Jn. 3:36 the Lord Jesus Christ said:
'HE THAT BELIEVETH ON THE SON,
HATH EVERLASTING LIFE, AND HE THAT
BELIEVETH NOT THE SON, SHALL NOT SEE LIFE,
BUT THE WRATH OF GOD ABIDETH UPON HIM."
If you trust Christ as Savior please send us an
email message and let us know so we can help you
grow in the grace and knowledge of the Lord Jesus Christ.
A Message From Zion Hill Baptist Church
Marion, North Carolina
Pastor: Dr. Tom Walker
To E-mail Click Below