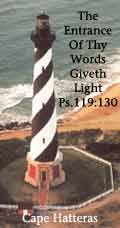 Dedicated To The Men of God Who Preach the Word of God As It Is To Men As They Are

A Book That Is A Must
For Bible Preachers

"As a instructor of Hermeneutics, I would say this should be a must for every preacher, old and young alike.
Dr. Alderman deals with the material under the headings of Preparing the Message, Preparing the Messenger, Preparing the Material, Presenting the Material, and has several sermons in full manuscript form. It is a combination of good Hermeneutics and Homiletics.
Brother Max deals with the preacher's call, character, convictions, courage, and compassion.

He also has an interesting section on colors in the Bible, places in the Bible, plants in the Bible, names in the Bible, and objects and things in the Bible.
He very capably deals with the preparation in preaching, the assimilation, the saturation, the meditation, the interpretation, the application, the presentation and the invitation.
This is a 153 page book full of interesting and informative reading. You will enjoy this book by my friend, Brother Max.

Dr. Tom Walker
Preacher's Corner Founder


For A Donation of $7.00 to the
Preacher's Corner Ministry, we can ship
this volume to you. Postage and handling
is included in the price.

Click on "order icon" below to have
an order blank to print out on your printer.