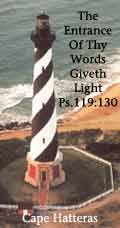 Dedicated To The Men of God Who Preach the Word of God As It Is To Men As They Are











"Preach The Word"
Smokey Mountain
Gospel Jubilee
County Tonight Theatre Pigeon Forge, TN
Moderator: Evangelist
T.D. Burgess
Feb.4th and 5th -2010
Thursday and Friday night
meetings: 7:00 P.M.
Friday Morning- 10:00 A.M.
Speakers:
Evangelist T.D. Burgess, Dr. Ralph Sexton Sr.,
Dr. Joe Arthur, Dr. Curtis Parker
Various Choirs
Three Great Services!
To e-mail the Preachers Corner
click on icon below: