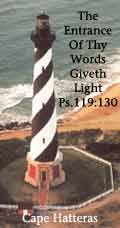 Dedicated To The Men of God Who Preach the Word of God As It Is To Men As They Are



"Today we are privileged to have the world-wide web
to share information with one another all around the world.
I consider it a great honor to share some of my own material
and that of some of God's most faithful, Spirit-filled servants."
Dr. Tom Walker, D.D.

No material of the Preacher's Corner Ministry, whether in electronic or printed format, is to be copied, sold, or distributed under the name of any other individual, ministry, corporation or association.
Join Our Mini Sermon Mailing List


Dr. Tom Walker
Sermons On This Page Are So
Categorized as to help you find
that for which you are looking.

Real
Audios
Also

Click On Picture

Billy Bryant
Mini-Sermons
CAMP ZION SITE
Myrtle, Mississippi

R. Earl Allen

Dr. Mike Allison
Dr. Hyman Appleman
Jewish Evangelist
Dr. Joe Arthur
Jonesboro Baptist
Dr. Max Alderman
Bible Baptist Church
Dr. Ron Baity
Berean Baptist
Dr. Stinnet Ballew
Evangelist
Dr. Curtis Barbery
Beulah Baptist
Dr. Bob Bevington
Knoxville, Tenn.
Dr. Larry Brown
Victory Baptist
Pastor James Bumgarner
Liledown Baptist
Evangelist T.D. Burgess
Evangelist
Dr. Laverne Butler
Ashland, Kentucky
Dr. Ben Byrd
Gospel Baptist
Pastor Alan Carr (Real Audio)
Calvary Baptist
Dr. B.B. Caldwell
At Home With Christ
Dr. David Clark
Greenbrook Baptist
Pastor Steve Dagenhart
Calvary Baptist
Dr. Bob Daugherty
Newnan, Georgia

Jerome DeJong

Pastor J.W. Depew
Homeland Baptist
Dr. A.C. Dixon
With Jesus
Dr. Francis Dixon
British Preacher
Dr. H.K. Downie
George B. Duncan
Keswick Speaker
Jonathan Edwards
Classic Message
Pastor Tom Fellows
Grace Baptist
Dr. Herschel Ford
Home With Christ
Dr. A.J. Gordon
Home With Christ
Pastor Zeno Groce
Home With Christ
Sherman Harper
Home with Christ
Gavin Hamilton
Dr. Vance Havner

Home In Heaven

George Henderson
Home In Heaven
John Hill Jr.
Thomasville, NC
Maze Jackson
At Home With Jesus
Carl Johnson
Funeral Sermons
Sam Jones
1800's Minister
Dr. J.B. Jordan
Evangelist
Dr. Bill Kanoy
At Home With Jesus
Pastor Ken Kirkley
Pastor Ron Lovins
Sneed Street Baptist
Cecil Lovelace
Goodes Creek
Alexander Maclaren
(1826-1910)
Dr. T. T. Martin
In Heaven
Dr. R.L. Matthews
At Home With Jesus

Dr. John Macbeath

Pastor Bill Metters
Asheboro, NC
Dr. F.B. Meyer
With the Lord
Dr. George Morrison
With the Lord
Dr. Stephen Olford
Evangelist
Dr. Joseph Parker
With the Lord
Dr. Estus Pirkle
Locust Grove
Dr. James Quick
Evangelist
Dr. Percy Ray
At Home With Jesus
Dr. Alan Redpath
Dr. C. L. Roach
With The Lord
Dr. Lee Roberson
Chancellor- TTU
Dr. John Smith
Hurricane, WV
Charles Haddon Spurgeon
Dr. Paul Tassell
United States
T. DeWitt Talmage
(1832-1902)
Dr. Andrew Telford
With the Lord
Dr. Edgar Thomas
Evangelist
Dr. Griffith Thomas
With The Lord
Willard Thomas
Gainsville, GA

Dr. R.A. Torrey
Pastor Ken Trivette
Temple Baptist
Pastor Steve Wagers
Dr. Tom Walker
Zion Hill Baptist
C. M. Ward
In Heaven
L.V. Wood
More Sermon Nuggets
Various Preachers
GOLDEN NUGGETS
FROM SOME OF GOD'S
FAITHFUL SERVANTS
VARIOUS PREACHERS
SERMON OUTLINES
ARRANGED BY THE
BOOKS OF THE BIBLE
VARIOUS
PREACHERS

SERMON STARTERS
VARIOUS
Great Outlines From Unknown Source
Excellent Studies

Preach the Word, be instant in season and out of season, reprove, rebuke, and exhort with all longsuffering and doctrine" (2 Tim. 4:2).
Newest Outline Additions

Click on New Sermons Line to go to the new page:
The Preachers Corner is officially incorporated under
the law of North Carolina under the name Preachers Corner Inc.