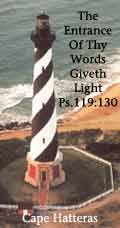 Dedicated To The Men of God Who Preach the Word of God As It Is To Men As They Are

What Grace !
by Dr. Tom Walker
Pastor Zion Hill Baptist Church- President Foothills Baptist Bible College
1 Peter 5:10-14 says the following:
"But the God of all grace, who hath called us unto his eternal glory by Christ Jesus, after that ye have suffered a while, make you perfect, stablish, strengthen, settle you. To him be glory and dominion for ever and ever. Amen. By Silvanus, a faithful brother unto you, as I suppose, I have written briefly, exhorting, and testifying that this is the true grace of God wherein ye stand. The church that is at Babylon, elected together with you, saluteth you; and so doth Marcus my son. Greet ye one another with a kiss of charity. Peace be with you all that are in Christ Jesus. Amen."
Notice how v.10 begins. The first words of that verse says, "But the God of all grace." The conjunction "but" draws a contrast. The Apostle Peter in the verses just prior to our passage in this study deals with two main things which draw a contrast to in verses vvs. 10-14.
The first contrast has to do with our cares mentioned in verse 7. Christians today have many cares but one day they will be no more. We deal with great concerns and problems today; but, it is good news to know that we can take them to the Lord. One old song says, "Take your burdens to the Lord and leave them there." Above and beyond that fact, there is coming a day when we will deal with cares no longer.
The other contrast involves Satan and the opposition he throws in our way. He goes about trying to cause problems in our lives, seeking to turn us away from the Lord. Verse 8 uses the word "devour" when it comes to disclosing Satan's objectives in our lives. In our King James Bibles, we find that word "devour" is translated in other places in the New Testament as "drown" and "swallow up." It is kin to the Greek word that is translated to "fall down." Satan certainly has no good intentions at all for our lives.
The key is this--no matter what your problems are not, God will see to them through His matchless, marvelous, and mighty grace. No matter how problematic things are in your life now, they will be better sooner or later.
God Has Grace Available To All (v.10)
1 Peter 5:10 refers to, "The God of all grace, who hath called us unto his eternal glory by Christ Jesus. "Of" is a source word. It tells us where something originated or came from in life. All true grace comes from God. When you need grace, all you need to do is ask Him for it, and to draw near to Him to receive it.
All saving grace, keeping grace, serving grace, settling and satisfying grace, every manifestation of grace, comes from God who gives it abundantly and freely to those who are willing to receive and believe on Him.
There is not a person on the face of the earth that Jesus did not die for at Calvary. But that does not mean everyone is going to Heaven. One must personally receive Christ to be able to walk on the streets of pure transparent gold in the New Jerusalem (John 1:12).
God's Grace Is Part Of An Eternal Plan (v.10)

Peter speaks of "eternal glory by Jesus Christ." While in this present world, we face suffering in some form about every day of our lives. Sometimes it looks like our pain and suffering will never end. When you compare our present sufferings with eternity, they just last a little while. We are assured of a day when there will be no suffering- Rev.21:4. We are called into God's eternal glory. That was the plan before the worlds began, when there was no one in the universe but God.
That plan involves several different matters. Never forget God is making you through the circumstances of life, both positive and negative. Certain things will happen after we have to undergo times of suffering.
First, the Lord will perfect us. That word "perfect" means to "arrange, to set in order, or to adjust." It is used of the mending of the net of James and John (Matt. 4:21). There is always mending to be done in our torn and tattered lives.
Secondly, the Lord will stablish us. "Stablish" is translated "steadfastly" in Luke 9:51. It means to turn steadfastly in a certain direction. It comes from a word that means "to make stiff, solid, or stable." What wonders the Lord can do in our lives!
Thirdly, the Lord will strengthen us. This is a promise to believers, pledging the help of Almighty God through the problems of this life.
Fourthly, the Lord will settle you. "Settle" means to "lay a solid foundation." It is a building term. In order to stand buildings need a solid foundation.

God's Grace Brings Praise To Christ (vvs.11-13)
It is a perpetual praise. The praise of verse 11 is to be "forever and ever." The scheme of grace is that God gets the glory, rather than man, because man is saved by grace and not through his own works (Eph.2:8-9). If man could produce his own salvation, then men would get the glory rather than God.
It is a provided praise. Two men are mentioned here in the last verses of the Book of I Peter-those being Silvanus and Marcus. Silvanus was a faithful brother who spread the word about the things God was doing through Paul. Marcus must have referred to John whose surnamed was Mark or Marcus. Mark spread the word also about how God should be praised. What are you doing to get that message out?
Also, the church at Babylon did their part in getting the word out about the worthiness of Christ to receive worship and praise.
God's Grace Brings Love And Peace (v.14)
All of those who are in Christ Jesus have two very important parts of those who receive salvation. There is charity, or love, which every believer possesses. Romans 5:5 says...."the love of God is shed abroad in our hearts by the Holy Ghost which is given unto us." God gives us a sufficiency of love to love others that we could not bring ourselves to otherwise love.
Peace also is given to believers. The peace Jesus gives is one that passes all understanding (Phil.4:7)
When we think of the supply of love and peace God gives to us through, and all because of His grace, we can do what the Apostle Peter did at the end of this book and say, "Amen." It means "so be it or let it be so." God's grace will prevail.
From Dr. Tom Walker