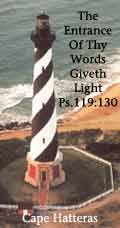 Dedicated To The Men of God Who Preach the Word of God As It Is To Men As They Are

"Preserving Our Heritage"
Memorial Compact
Disk Albums
[A Gospel Preaching Treasure]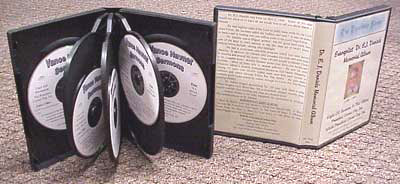 1- There are eight CD's in each of the albums.
2- Each of these at standard CD format (.wav) that should play on all
CD players. MP3 sermons require a player that is capable of playing
MP3's. These are not MP3's!
3- Most of these have undergone computer processing to enhance and
clarify sound.
4- Each CD case has an insert with a good picture of the preacher on
the front and a biographical sketch on the back.
5- Each CD has information clearly printed directly onto the CD itself.
6- These are not provided to purchase for reduplication and resale.
7- The funds from your donations are used to further this labor of love to
preachers, missionaries, and Sunday School teachers around the world.
Thank God for the old-fashioned preachers of the Word of God,
who believed in having the fullness of the Spirit of God, and sought
to have it upon them as they preached the Word of God. There are
many men of God who have touched my life and led me in the
direction of what I would called "the old-time way." These are a
few of those men who have touched my life in one way or another
from years gone by. They are now in glory, but may their messages
ever live on through albums such as these which are made available
to you. God has led me into this endeavor and I know that He will
bless these efforts to preserve and make available these sermons.
THE FOLLOWING CD ALBUMS ARE AVAILABLE
OR WILL BE SOON------ OF PREACHERS WHO HAVE ALREADY
MADE THE JOURNEY TO HEAVEN
(Individual albums done when possible
with family permission granted)
Click on red dot at the right to see more about each album:

Gone But Not Forgotten Albums 1, 2, 3

Dr. Percy Ray Memorial Albums 1 & 2
Evangelist Maze Jackson Memorial Albums
1, 2, 3, 4, 5,6,7,8,9
Dr. Arthur Blackburn Memorial Albums 1 & 2
Evangelist Billy Kelly Memorial Album
Dr. B. R. Lakin Memorial Albums 1 & 2
Dr. E. J. Daniels Memorial Album
Dr. B.B. Caldwell
Evangelist Joe Parsons
Dr. Vance Havner Albums 1,2,3,4
Dr. Harold B. Sightler
Dr. Bruce Lackey (Album on the family)

Dr. John McCormick

Dr. Curtis Hutson

Dr. John R. Rice

Dr. George Truett

Dr. Andrew Telford

Dr. R.G. Lee

Dr. J.F. Aker

Dr. Edgar Thomas

Rev. Billy Bryant

Dr. J. Sidlow Baxter

Dr. Lee Roberson



More information can be found about credit card payments
when you click on the order icon on each man's album page.
COLLECT AN ATTRACTIVE CD
SERIES LIBRARY AS YOU OBTAIN
THESE KEEPSAKE, CLASSIC SERMONS!

Don't Lose Touch With Our
Spiritual Heritage!